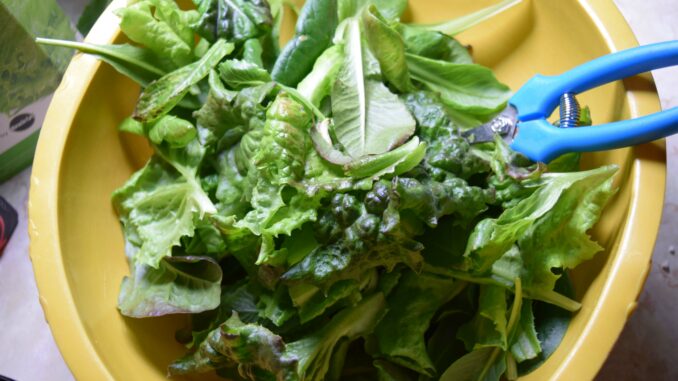 That's right in 50 days I have harvested three large bags of Heirloom Salad Greens with my AreoGraden Harvest Elite. Even though I have reviewed this product before AeroGarden Harvest Elite – In-Home Hydroponic Garden System, I am truly amazed by the productivity of this unit and this seed Pod Kit. Crisp and Delicious as the advertised this seed kit with this system as being a really good choice for my Hydroponic efforts.
As you know from my posts – I grow hydroponically using a variety of systems, from Mason jar to Tower systems. Each of which has its merits and disadvantages. As for a simple countertop system, the AreoGarden has performed well above my expectations. This model is not currently available, but the Harvest Elite 360 should before just as well.
As for the Heirloom Salad Greens Seed Pod Kit that I recommend that you do not purchase it from Amazon, even though I am Amazon Affiliate – I know that you can purchase it for a lot less from other vendors. Just do a quick online search, you should be able to find a better price. If you can't, let me know in the comments below. If you would like to try your own seeds AeroGarden has a grow anything seed kit.
The Harvest Elite is what I would call a midrange system for Areograden. If you like to try a very inexpensive system I would recommend the AeroGraden Sprout. If you would like to try a  nice small 3 pod countertop unit. No matter what you choose these are great units – I look forward to your comments. You can hydro grow….