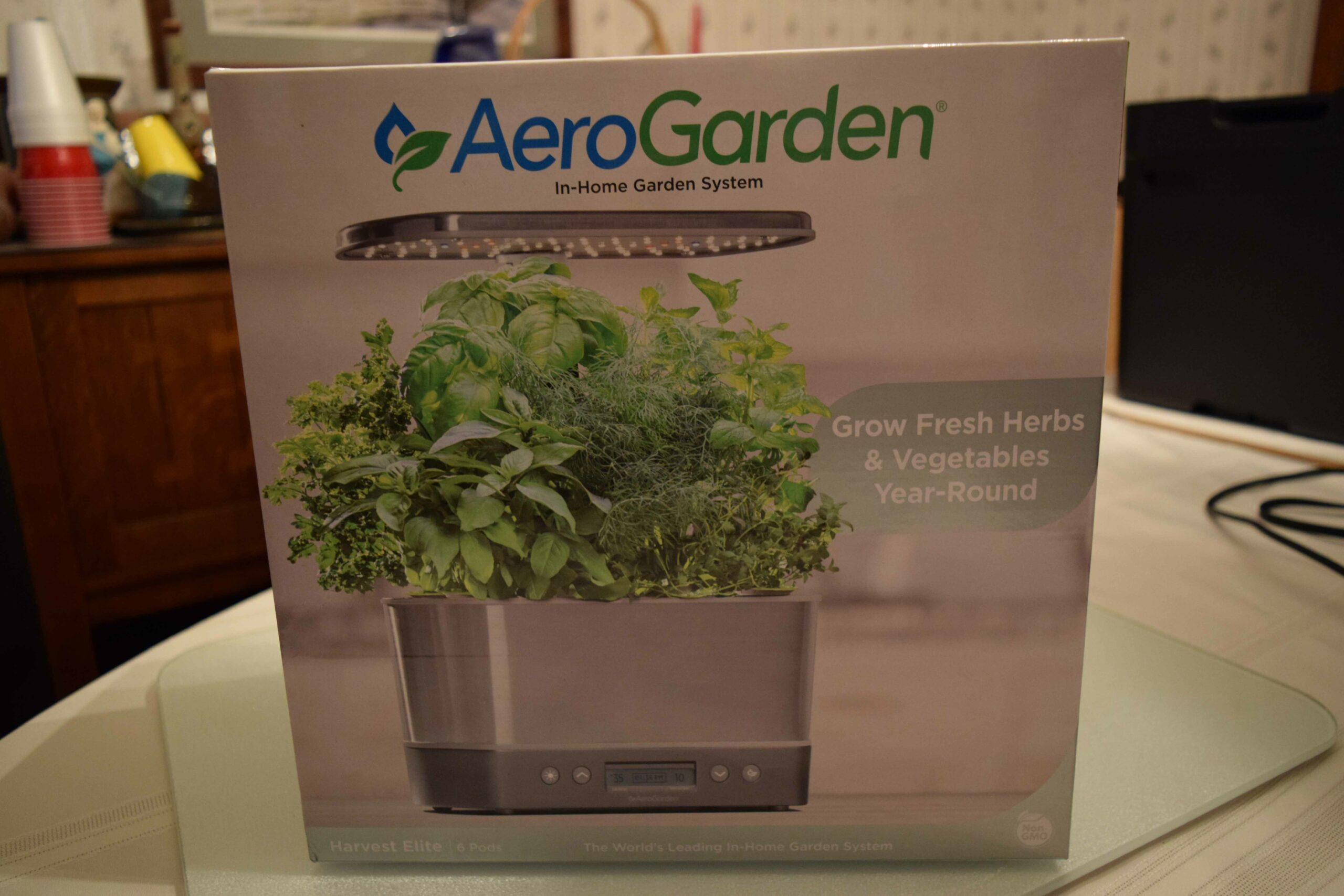 The AeroGarden Harvest Elite is a small but mighty in-home hydroponic garden system. For those who want something that is compact, easy to set up and maintain this is a great system.
From my other posts, you'll find that I like to construct DIY hydroponic systems. Sometimes you just want something that is packed ready to go and is simple to operate. Even though I spent the weeks on DIY Mason Grow Jars, Grow Buckets, and other Kratky setups – there came along great sale that I couldn't resist.
Many years ago, I first started into hydroponic gardening with a first-generation AeroGrow system. It worked so well, that when the opportunity presented itself, I decided to check out their new line of in-home gardening systems.
Compared to the older systems, the newer AeroGrow Harvest Elite system is surprisingly compact. Coming in a box that is s no more than 12" wide, 12" high and 8" in depth. Unpacked and without the light extended the unit is no more than 11" high, making it a great countertop system.
The basic system comes with instructions to get you going.
I choose the 6 pod Heirloom garden kit from the selection that was offered. When you order off of Amazon the system with seeded a 6 pod Gourmet Herb Seed Kit. The Seed Kit includes grow domes and hydroponic plant nutrient. In my case, I ordered the Heirloom Garden Salad Greens Mix Seed kit, also available from Amazon. You haven't guessed by now; I am an Amazon Affiliate. While you can purchase AeroGarden systems from different outlets, Amazon usually has the best deal.
The system consists of a Bowl for the water and nutrients that sets on a base. You plug into the base your pump and lights. There is a Grow Deck that sets on top of the Bowl. It is the Grow Deck where you will insert your Seed Pods.
As mentioned previously the LED Light Hood is height is easily adjustable. You'll be started off with the Light Hood adjusted to the lowest sitting for sprouting – moving it up as the plants mature.
The Quick Setup Guide and the Seed Pod Kit instructions walk you through everything you need to know about getting the Pods inserted into the Grow base. They recommend that you use distilled water and you will add plant nutrients to the water.  As you can see the AeroGarden Heirloom Salad Green 6 pod kit comes with some very interesting varieties.   Have found Heirloom plants can be very surprising and delicious, can't wait to see what grows out of this variety.
Once you plug your main power cord into your electrical outlet, the LED light will come immediately on.  Recommend from experience, not to be looking at the LED when it pops on, its really, really bright.  The Control Panel in the Base will also light up, ready for setup. At this point is where I ran into the only slight Con out of an overwhelming batch of Pros. The instructions are good, but the Up and Down buttons are sensitive to the touch. Please do not let this distract you from considering this unit. I just feel that the instruction could be improved upon slightly. A subsequent post will be dedicated to the Control Panel of this unit. Other less expensive systems have simpler controls to work with. Again this is something to keep in mind when choosing the right unit for your use.
Overall the AeroGrow Harvest Elite in-home garden system is an outstanding compact hydroponic system that will give you a great start into countertop Hydroponics. If you would like a less expensive system, the AreoGarden Sprout, AreoGarden Harvest 360 Indoor Hydroponic Garden or AreoGarden Classic 6 are great buys.
Look forward to your comments on this post and any of your questions concerning this or other